Workout Recovery While at Home
The coronavirus lockdown has changed the way we work, shop, socialize, and even the way we exercise. The days are often filled with additional stressors with working parents negotiating household, financial, and homeschool responsibilities with little-to-no downtime. But it's important to keep moving — exercise helps maintain good physical and mental health during these stressful times.
Great job if you're keeping up with your pre-COVID workout schedule! Lots of us are getting our gym fix via technology from various fitness apps, live classes, and online workouts. And while your workout schedule is important to maintain, it's vital to build recovery time into your exercise regimen. Recovery allows your muscles to repair themselves and engages muscles that are sore from your workout.

So, while you're doing a fab job of working out from your basement or living room, here are some of our hottest Homedics® recovery products to top off your WFH workout: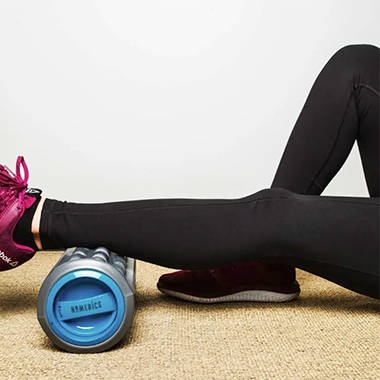 Stretch It Out
An Air Compression Back Stretching Mat brings the yoga studio to your home with a precision-controlled air-compression system that goes beyond basic stretching. It helps relieve tension in your back and increase your flexibility as it inflates and deflates to emulate yoga styles. Namaste!
Customer Review:
MissGina67 says: "…I'm extremely happy with my mat, and use it almost every day for about 10 minutes. It's already improved my circulation in my lower back, and I definitely feel an improvement in my mid-torso. This mat is a must have for anyone who needs back relief with stretching!!"
Roll It Out
Foam isn't just for bubbles, bath time, and old-school hair rollers. The Gladiator Vibration Foam Roller reduces tension while increasing muscle length post-exercise for active recovery. This roller uses multiple foam textures to deliver a variety of massage sensations to help soothe and loosen tight muscles. With 3 massage intensities, you'll wake up the next morning feeling amazing.
Branch Out
Stick to your exercise program and finish your workout recovery strong with the Vertex Vibration Stick Roller. Six independently spinning rollers will stretch and loosen your tired muscles with rolling action. This roller's trigger-point ends release tight muscles with targeted pressure massage so you can get back at tomorrow's workout.
Drum Away
The Mercury Percussion Massager with Heat stimulates your overworked muscles with invigorating vibration. The powerful percussion massager loosens tight muscles and has 3 attachments so you can target the muscles you worked out most. Getting a massage helps loosen up muscles, increase oxygen and blood flow to muscles, and remove lactic acid buildup (which is what makes you sore).
Customer Review:
Fruity Says: "Feels so good. This is my second model and I love the contour attachment. It's perfect for legs shoulders and trap area. As a bonus, my kids love using this thing and think it's fun to give me a massage. The jokes on them lol!"
Target Zone
The Acu-Node Massager isn't just for use after leg day. Target your back, arms, and feet with a spot-specific
massage experience and knead out those quads, tris, and traps. You can also try the Hydra Vibration Foot Massager to help refresh your tired feet. Its internal water chamber can add a hot or cold element for extra relief.
Customer Review:
imqueenmom says: "My shoulders say thank you. I purchased this item to help with my locked up shoulders and a pinched nerve in my neck. The size is perfect. The vibrations feel wonderful…"
Arm Day
Ever crush an arm workout and then have trouble doing simple tasks like raising your cup of coffee or putting on deodorant? The Triumph Vibration Pinpoint Massager's ergonomic design is great for getting to those hard-to-reach areas of the body. The rotating head for pinpoint or multi-point targeted vibration massage rejuvenates overworked muscles. A rubber comfort-grip handle makes it easy to control even when your arms feel like Jell-O.
Customer Review:
Judy says: "Where has this been all my life? Have had chronic neck and back (pain) for 35 years. Have used many massagers but this one is genius. The pulling action gives a true deep massage. HIGHLY RECOMMEND!"
Head to Toe
Finally, the Solstice Vibration Hot & Cold Massager provides an all-over vibrating massage right in the palm of your hand. This massager comes with 8 interchangeable, unique massage heads, including a soft and flexible cold gel to soothe and cool overworked muscles, a pinpoint head, a multi-node head and a soothing heat attachment to calm sore muscles.
Customer Review:
Goldi says: "I bought this for my husband. It's the second! One for our home and one for when he is traveling. The massage effect is fantastic!!"
Check out our complete Sports Recovery Selection.
Medical Disclaimer: This content is provided for informational purposes only and not intended to be a substitute for professional medical advice, diagnosis or treatment.